Dill-icious Destinations: Best Burgers in Times Square
|
Take a bite out of the Big Apple by digging into some of the best burgers that New York City has to offer, conveniently located in the heart of Times Square. When it comes to your search for an authentic NYC cheeseburger catering to your distinct palette, we are here to ensure that this meal is a memorable one. Whether you're in pursuit of fine dining or family fare, we've got the Times Square scoop on not only where to score the hottest thing served on a brioche bun but also how to snag the perfect atmosphere that plays well with your taste buds.
Counter Culture
The Counter (1451 Broadway xx 6th and 7th Ave)
Adding some sizzle to your NYC summer, The Counter brings the craft back into all-American cuisine with premium cuts and custom burgers that we simply cannot resist. With a seasonally rotating menu of specialty burgers like the Carne Asada Burger, classics like the tried-and-true Counter Burger and the always-satisfying "build your own burger" options, this Times Square destination makes it a cherished locale for New York City natives like ourselves and newcomers alike. Casual dining meets gourmet flavor, The Counter serves up exceptional sliders in the heart of Times of Times Square.
The Sophisticated Slider
Glass House Tavern (252 West 47th St xx 7th and 8th Ave)
If you find yourself in Times Square with a craving for a lunch experience of the fine dining persuasion, look no further than Glass House Tavern. With favorites such as the Tavern Burger and Grilled Turkey Burger only available at lunchtime, exclusivity meets savory indulgence on a brioche bun. In a metropolis where descent burgers are a dime a dozen, Glass House Tavern raises the stakes with quality steaks and unbeatable atmosphere.
Meals on Wheels
Frites 'N' Meats (Corner of Greenwich St and Chambers St)
During the warmer months, nothing embodies New York City dining quite like a cheeseburger and fries from famed food truck, Frites 'N' Meats. While they do deliver on the promise of the delicious standard, we strongly suggest stepping outside of your burger box by sampling their Burger of the Week and a side of Belgian-style frites, served with specialty aioli sauces. While Frites 'N' Meats, may have wheels willing to take business anywhere throughout the Big Apple, they can usually be spotted in Times Square between Greenwich & Chambers, serving ultra-satisfying burgers to long lines of satisfied customers.
The Ultimate Indulgence
5 Napkin Burger (630 9th Ave xx West 44th and 45th St)
Although this cherished venue has several locations across the city, this is where the locale's legacy began. With nearly ten specialties, 5 Napkin Burger is where city dwellers indulge on buzzing ambiance and burgers that are well worth the messy hands. From the Original to the Inside Out, 5 Napkin Burger caters a deliciously extensive selection as dynamic as its patrons.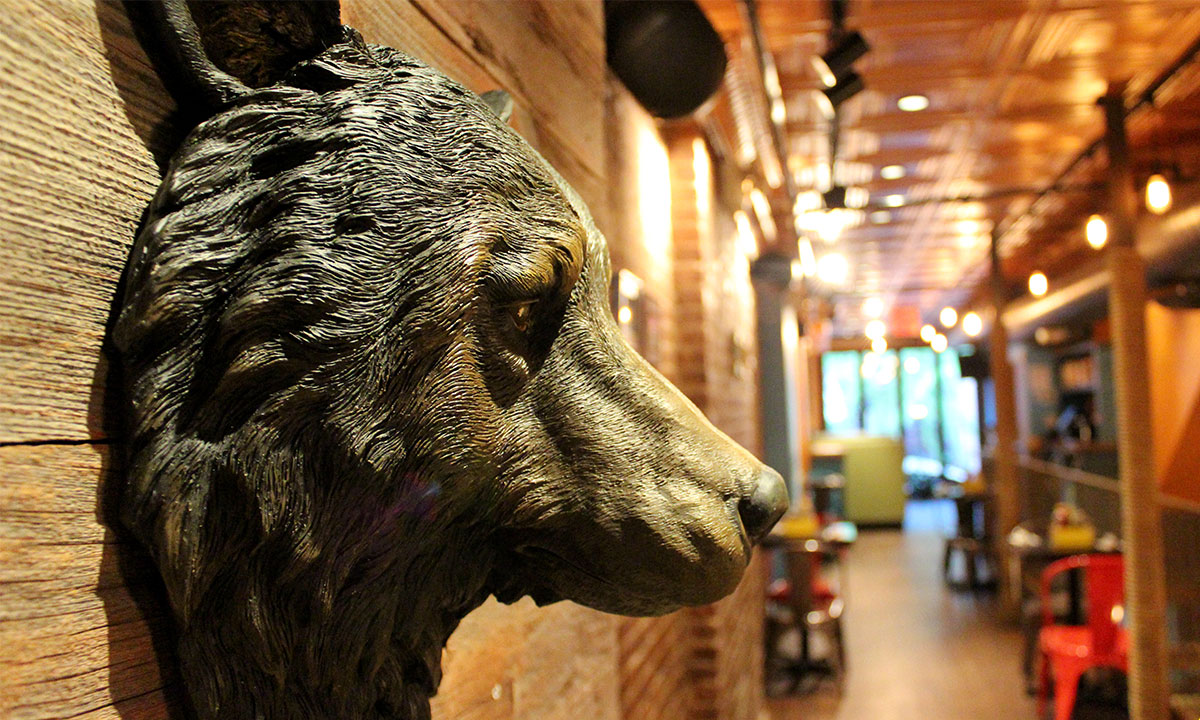 Organic Eats
Bareburger (366 West 46th St xx 8th and 8th Ave)
The art of the all-American meal receives some serious reworking at Times Square's Bareburger as this venue prides itself on delivering the same old satisfaction of a delicious burger with a healthy and all-natural twist. Saying no to GMO by way of organic ingredients and farm-fresh flavor, this establishment is the upgrade that New York City has been waiting for as made evident by its immense success. From classic beef to more contemporary choices like wild boar or black bean patty, the extensive burger selection at Bareburger is a tasty break from tradition not to be missed.
The Classic
Shake Shack (691 8th Ave xx West 43rd and 44th St)
This quintessential Times Square destination requires no introduction as its multiple locations have been serving New York City and beyond with delicious diner fare for years. Albeit a chain franchise, this restaurant is still a treasured destination by all who have had the distinct pleasure of washing down one of their 100% all-natural Angus beef burgers with a creamsicle float or frozen custard. Most simply, Shake Shack has the name recognition of a major chain and the quality of a local favorite, making it an absolute must when it comes to satisfying your Times Square burger craving. But consider yourself warned because while they may cook up one of the most recognizable cheeseburgers in the city, the long lines at Shake Shack are almost as iconic.
Big Name, Bigger Flavor
Guy's American Kitchen (220 West 44th St xx 7th and 8th Ave)
With peace, love and grease, celebrity chef Guy Fieri brings exceptional flavor and fiery atmosphere to his Times Square grub hub, Guy's American Kitchen. With specialty dishes like the Bacon Mac n Cheese Burger or the restaurant's classic cheeseburger made from scratch, this dynamic venue's daring indulgences make it a premier NYC dining destination. If you are anything like us, you're not exempt from the occasional craving for dishes that are sinfully satisfying so when this deep-fried desire kicks in, quench it at Guy's American Kitchen in Times Square.